It's a 1 in every 10 000 chance that a diamond will possess a natural color.
The geological conditions required to yield fancy colors are extremely scarce. Formed the same way as white diamonds, nature occasionally produces diamonds with natural colors like black, yellow, pink, green and every shade imaginable in between.
Read about the 5 attributes that affect value.
Color Rarity
They exist in every single natural color imaginable, the rarer the color, the more valuable the diamond. Some diamonds have secondary color hues that can increase or decrease the value of the fancy colored diamond, depending on the rarity of that second color. Grey, black and yellow are amongst the rare to very rare. Pink, Blue, Green, Orange, Purple and Red are amongst the extremely rare to most rare.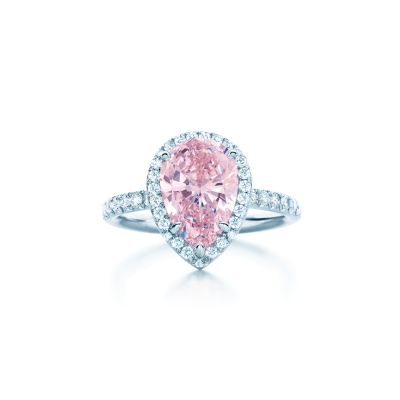 Tiffany and co pear- shaped pink diamond
Color Strength
The Strength of color is one of the most important factors in determining the value of a natural color diamond. The value of a natural color diamond increases with the intensity of the most prominent color within the diamond. Deeper shades are rated higher than pale shades. Tone and saturation are graded in order of intensity like: Faint/ Very Light / Light / Fancy / Intense / Vivid / Dark.
Van Cleef and Arpels Saidapur ring with pink sapphire stone and diamonds
Carat Weight
Carat weight has an important impact on value for natural colored diamonds. When diamonds are mined, large gems are discovered much less frequently than small ones, making large diamonds more valuable. Diamond prices for fancy color diamonds rise exponentially with increased carat weight.
Clarity
Clarity plays a role in natural colored diamonds and respects the same clarity grading scale as colorless diamonds. But because inclusions tend to be masked by the diamond's color, clarity is less important in natural colored diamonds than it is in their colorless counterparts.
Cut and Shape
The artistry involved in cutting natural colored diamonds is exquisite. Each step is to emphasize the color and one wrong step could lose color. Many fancy color diamonds are cut into non-traditional shapes to enhance their natural color. While cut describes a diamond's light performance, even color distribution, dimensions and finish; the shape refers to the overall outline of the diamond when viewed from the top (round, princess or pear shape…).
Ecksand yellow diamond ring hidden heart